Hello
Thanks for surfing by my little piece of cyberspace. If you're looking for someone to edit your masterpiece, ghostwrite your memoir, or collaborate with you on the next bestseller … I may be your woman.

Over the past 20+ years I have helped aspiring authors turn their ideas into marketable books on a variety of topics including:

• identity theft,
• leadership,
• conquering clutter,
• writing, and
• learning styles.

I have edited memoirs for:

• a prominent businesswoman,
• a missionary doctor, and
• a controversial political figure.

When working as a ghostwriter or substantive editor, I always maintain the author's unique voice, while telling an accurate, coherent, and entertaining story.

If you'd like more information about how I can help you work magic with your words, please contact me by clicking on the "E-mail the Author" link in the upper, left-hand corner.



Here's what two former clients had to say:

(From the Acknowledgments)

"To Vicki Gibbs, my amazing editor ... Her literary skills, organizational talents, and affirmative attitude made my hectic schedule a much more positive experience." -- Mari Frank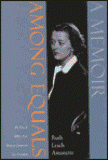 "Your diligence, your steadfast faithfulness, your perseverance, and your persistent optimism for this project have been an inspiration to K and me. We're deeply grateful and will always consider you my silent partner." Ruth Leach Amonette